The ideal ozone generator for any ozone application.
Highly versatile, with ultra-pure ozone for insufflations, topical ozone, saunas, ozonated water, oil bubbling, and much more.
Dozens of ozone concentration options up to 110 ug/ml

Dual ceramic ozone cells that won't burn out

Crafted in the USA with all ozone-compatible materials

Lifetime warranty and premier service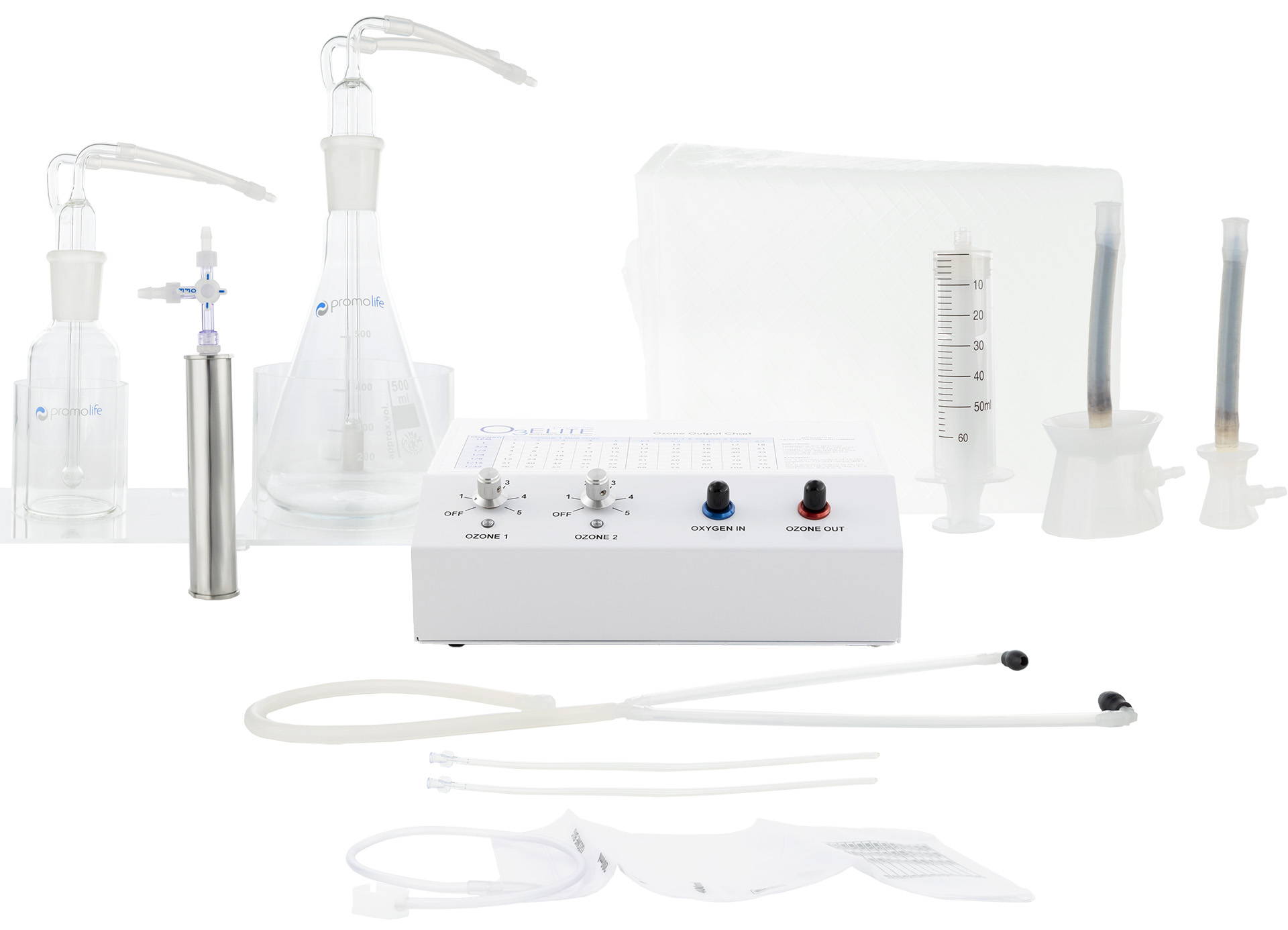 Useful for all ozone applications.
*Accessories above not included.
Are you looking for an ozone generator that provides enough ozone for all ozone applications, including saunas?
If you want to offer the full range of ozone uses, you need an ozone generator that can provide a wide range of outputs, including higher rates that can be used with high heat.
The O3Elite Dual has two ozone cells capable of producing ozone up to 110 gamma. This covers it all: insufflations, saunas, ozonating water, cupping, full body ozone, breathing ozonides through oil, and anything else you may need. If you don't plan to use high-heat applications, you can reduce your costs by choosing the O3Elite Single.
No heat degrades the ozone; no need for fans; cold corona.
Safe with very low voltage, concentrations up to 110 ug/ml
Feel secure with your purchase. We've got you covered.
Just as ozone-resistant and pure as glass without the potential burnout.
Run individually or together for more output options.
All parts are compatible with ozone for strength and durability.
Capable of producing enough ozone for any ozone application.
All parts manufactured in the US and each unit is checked by hand by us.
See what Customers are Saying
Great Ozone Generator!
"I have had one of these for 4 years and just purchased another one. The O3Elite is a very powerful system and I can vouch for the calibration. I use it for everything from a sauna down to nasal insufflations. I use it to bag limbs and every kind of insufflation. I love this little unit."
- Dr. William Coan
Best machine I have ever owned
"I have been working with ozone since 1994. I have had this machine for over 10 years and it is amazing. Easy to use and this company is very supportive in terms of answering questions and providing instruction. A great investment, well worth the money."
- Luanne P.
Love my new O3 machine!
"I bought my 1st [generator] in 1996. It was primitive but probably saved my life more than once. I bought a second one from one of the other currently popular companies but found it too weak and of questionable quality. I love the new Promolife Dual. Simple, powerful and affordable!"
- Scott
Universal Voltage
Use it anywhere in the world without a step down transformer.
Dual Quiet, Efficient Ozone Cells
Ultra pure ozone without the noise of other units.
CE Approved
110-240 volts, 50/60 Hz, 1.5 amps
Luer Lock Connections
Tubing locks on securely with no slippage.
Premier Support
We are here if you have any questions at all. Detailed manual provided.
Wall Mount Holes
On a table or on the wall, place your O3Elite where you need it.
Easy Maintenance
The O3Elite is simple to maintain for a longer life and quality use.
Customizable
Talk to us if you need modified output or other specific applications.
What You Get
O3Elite Dual Ozone Generator
5' silicone tubing with Luer lock adapter
5' oxygen tubing with Luer lock adapter
Two PVDF Luer fit adapters
Instruction Manual
Ozone (Gamma) Chart
Power Adapter
Ozone-resistant check valve
Luer lock caps
Wall mounts
Lifetime Warranty

We provide a wealth of setup information via video and manuals, but if you need additional help, we offer two free 45-minute phone or Zoom setup sessions ($150 total value) with ozone generators and packages. If you need to schedule one, view our Scheduling page.
Other Specifications
Input: 100-240 volts, 50/60 Hz, 1.5 amps
Voltage: 12 VDC
Tube size: 3/16" inner, 5/16" outer
Dimensions:10" x 7.5" x 3"
Painted aluminum body
Two switches, two ozone controls
Oxygen feed required
View Gamma Chart
Frequently Asked Questions
What more can you tell me about the O3Elite Dual?
The Dual creates stable ozone up to 110 ug/ml (gamma). This allows you to do any ozone applications you wish including ozone saunas, insufflations, ozonating water, breathing ozone bubbled through oil, using ozone syringes, topical ozone, and more. With two cells, you get even more flexibility to expand your ozone routine any way you see fit.
Designed with a lifetime of use in mind
The O3Elite was created after years of working with ozone generators from other manufacturers. We wanted a unit that was easy to use, provided ultra high quality ozone, with a number of important features, and superior quality control. The O3Elite exceeded even our high expectations. The Dual creates stable ozone up to 110ug/ml (gamma). Other units are available.
The O3Elite is the next generation of low wattage, low frequency ozone generators. Unlike dangerous high voltage glass cell generators, the O3Elite will never burn out, is very quiet, and operates cool so the ozone is not destroyed by heat (this provides a more stable ozone output; you might want to see this article: Glass vs. Ceramic: What's Best for Ozone Generators?). Glass cells generate a tremendous amount of heat which compromises the quality of ozone. The O3Elite comes standard with Luer locks, universal worldwide voltage, wall mounts and cleanable cells.
How safe is the O3Elite Dual?
Safety and efficiency are our top priority
All of the components of the O3Elite are manufactured in the United States, including the ceramic ozone cells. Because the O3Elite operates at a mere 1.5 amps, ETL and UL approval are not necessary and operation is safer.
In fact, the O3Elite is the safest ozone generator available.
Each O3Elite Ozone Generator is individually tested for ozone output and efficiency in our lab before shipping.
Why is Cold Ozone Production important?
The O3Elite Ozonator runs with either an oxygen concentrator or an oxygen tank (sold separately). It features Cold Ozone Production with no excess heat, and produces stable ozone concentrations at different oxygen flow rates. The concentration won't diminish over time. Between the settings on the ozone generator and the various flow rates available from your oxygen source, you can create a specified range of output up to 110 ug/ml. We include an easy to read chart showing how to get the precise gamma level you desire.
Cold Ozone Technology with ceramic cells creates stronger, more efficient ozone production with minimum voltage input. Because the cells are so efficient they produce next to no noise. Machines with glass cells can create a lot of noise and heat, making them far less than ideal for ozone therapy.
How do I find the right Oxygen Source?
In order to create quality ozone, you need a high purity oxygen source like an oxygen tank or an oxygen concentrator. When oxygen comes into the unit, the O3Elite transforms it from two molecules (O2) to three (O3). After a short period of time the third molecule breaks off and does the work in ozone therapy. To see your options, you can visit our Oxygen page. It will show you the options and help you choose what's right for you.
If you have questions, please let us know.
Shipping Note: If adding an oxygen concentrator to your order, it may take one to two weeks to ship the concentrator.
Which ozone generator is right for me?
The O3Elite Single has an adjustable dial and creates ozone up to 70 ug/ml, while the O3Elite Dual has two ozone cells and adjustable dials to create ozone up to 110 ug/ml. The Mini has one button operation and produces ozone up to 65ug/ml. The Mini and the Single are ideal for most ozone applications. If you want more variability in output, consider the Single. If you plan to do ozone saunas or want to ozonate oil and water more quickly, you'll want to look at the Dual. For a complete guide, have a look at our Ozone Generator Comparison.
The support you need is easy to find
We provide a wealth of setup information via video and manuals, but if you need additional help, we offer two free 45-minute phone or Zoom setup sessions ($150 total value) with ozone generators and packages. If you need to schedule one, view our Scheduling page.
Custom Field
Product Reviews