Clearlight Saunas
Clearlight Far Infrared Saunas feature top quality construction, combination ceramic and carbon heaters, and optimal far infrared emissions.
Clearlight Advantage

High far infrared emission in the optimum range
Top quality woods and construction
Heaters surround the user for better
sweat and detox
Low EMF emission
Fast warm-up time (10 minutes)
Even heating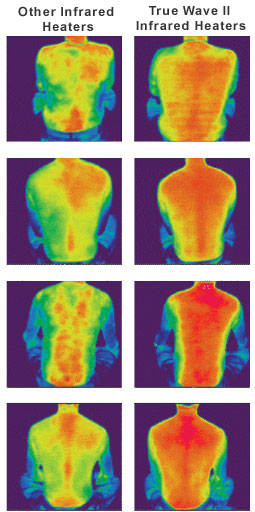 Clearlight provides three types of far infrared wooden saunas that are effective and luxurious. They use high quality wood with tongue and groove construction and no veneers. Choose from the Sanctuary or Premier models in cedar or basswood.

The heaters produce unmatched long wave far infrared heat using combination carbon and ceramic heaters. The carbon produces long wave far infrared heat that can penetrate deeper and is absorbed better by the body. The ceramic allows the heaters to achieve a very high output and because the heaters are properly positioned, you are surrounded in far infrared heat that is focused on your body. Used separately carbon and ceramic are not as effective.
About the Heaters
True Wave II sauna heaters are larger than many others, giving more surface area for lower surface temperatures on the heaters themselves. The long wave far infrared rays penetrate deep in the 7 to 10 micron optimal range, with a good portion at 9.4 microns. This makes it easy to absorb. High emissivity means you get not only top quality infrared, you get a lot of it right where you need it.

In the 7 to 10 micron range, far infrared causes the water molecules in the body to vibrate or resonate. This causes releases of toxins and toxic gasses from your body. The deep penetration can also provide pain relief, circulation and better peripheral blood flow.

Many sauna companies don't use front wall heaters, which means you miss out on a lot. Clearlight places heaters on the front, back and side walls as well as underneath the bench so you get the best heat possible. You have to heat the front of the body in order to detox and sweat optimally.
Low EMF Emissions
Using a TriField meter, True Wave II heaters were shown to emit only 2.5 mG, compared to 35 for Healthmate Saunas, 70 for Goldenwave, 100 for Solaris and high numbers for other brands. Acceptable levels are considered anything under 3mG.
Many sizes and styles
See above for all of the models available in either cedar or basswood. Each wood type has a number of sizes to suit your needs.