The Qfiber Far Infrared Body Wrap effective distributes soothing far infrared heat across the entire area to be treated.
The Qfiber body wrap can be used to supply deep penetrating far infrared therapy to legs, knees, arms, elbows, shoulders, ankles and most other parts of the body. The included extra strap can be used to treat the hips, back, abdomen and lumbar region. The gentle heat will penetrate deeply to relax joints, the back and other large treatment areas.

Qfiber is a contoured, high tech therapeutic wrap that provides safe infrared therapy anywhere. It has been made with true infrared and a multi-layer fabric with therapeutic minerals. The Qfiber is often used by athletes to recover from injuries, improve circulation and enhance performance. It is also very popular for those seeking relief from stress, muscle tension and pain.

Far infrared is the most beneficial and safest form of light. It penetrates up to three inches into tired muscles for an unmatched therapy experience. EMF is extremely low, making it safe and effective.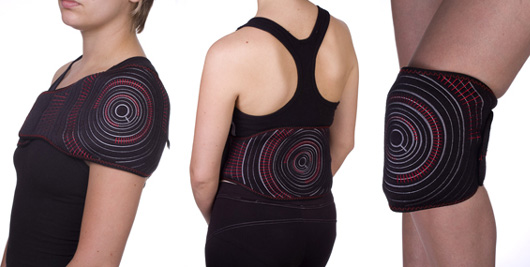 Size: Fits up to a 52" waist with extender strap
Capacity: 12 liter
Main Fabric: 1000 D Nylon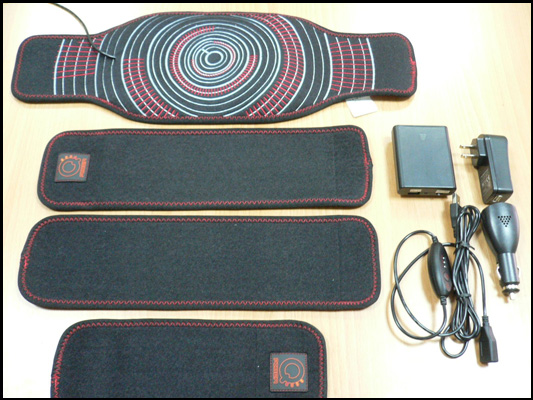 Note: Battery pack and car charger shown above are not included.
Included with wrap:
Controller: 60 Minute Automatic Off, Three Variable Heat Settings, Easy One Button Control, 6.5 Foot Cable Length
USB AC Adapter: Low Profile, Space Saving Design, LED Status Light, Input: 100-240v AC, 0.2A, 50/60Hz, Output: 5.0V DC, 2.0A, 10W
You might want to contact your insurance company to see if your plan will reimburse you for far infrared therapy products. We can not bill insurance companies, and plans can be very different in what they cover.