The iGrow is a revolution in hair rejuvenation technology - it's safe and easy to use.
FDA cleared

for treatment of androgenetic alopecia (male pattern hair loss) See Press Release
Yes, you really can grow your hair back and yes, iGrow is an effective solution to fill in those balding areas. Introducing the new iGrow hair regrowth system.
The iGrow uses built-in low level laser devices and LED lights to stimulate circulation, thus greatly improving the health of your hair. After being used for very successfully for years in clinics, the iGrow is now available to consumers to use in the comfort of their own home.
In 1967, Endre Mester of Semmelweis University discovered that skin cells were healthier and could actually regrow hair in the right type of light. Since then, studies have proven that hair responds well to red lights in the wavelength range of 650-670 nm, and tests show that low level laser therapy can be enhanced by pulsing light.
Using this combination makes iGrow one of the most effective hair growth methods available today. The iGrow is drug and chemical free.
This hands free device is very easy and safe to use. Just place on your head similar to putting on a bike helmet. It adjusts to any size head and there is even ear speakers so you can listen to your favorite recording.
The handy remote will allow you to easily contol the settings of your choice according to your hair loss issue. To get a better idea of all the features, just click on the photo of the unit above to enlarge.
Don't let balding control you and don't let genetics dictate if you lose hair - get the new iGrow system and buck the system.
With regular use of iGrow, you can expect to see gradual improvements in hair condition within a twelve week period. Individual results may vary. Best results come from using iGrow two to three times a week on non-consequetive days consisistently. Low level laser therapy has been shown to help with hair rejuvenation for people with genetic forms of hair loss like male or female pattern baldness. People with significant hair loss due to advanced age, medical causes or disease will not benefit from this therapy.
Cost Comparisons
According to hairtransplantcosts.com, a typical hair transplant, depending on the number of grafts needed, can cost between $4000 and $20,000.
Results
Now that research has helped develop the iGrow, a portable solution for a variety of hair loss needs. Below you can see actual results obtained by use of the iGrow Hair Rejuvenation System.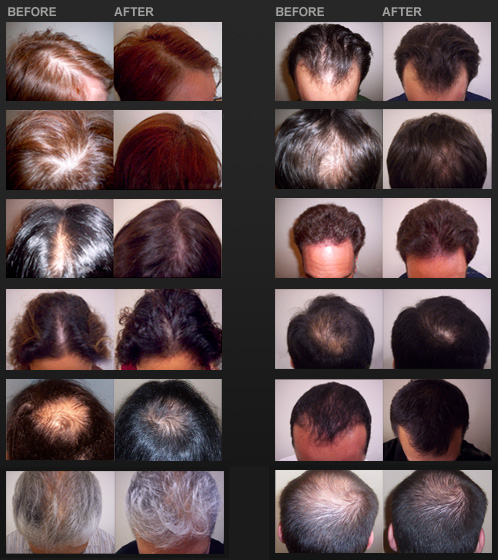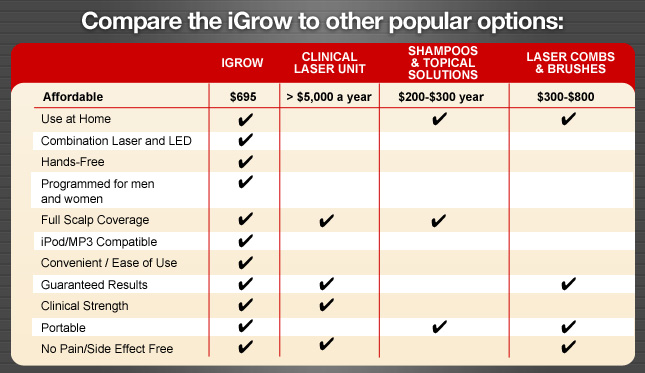 If you have questions, you may find your answer in the iGrow FAQ (opens in new window). Otherwise, feel free to contact us.
Used for: hair growth, hair restoration, laser hair treatment, to grow hair, hair loss, hair rejuvenation, to restore hair
FDA cleared for treatment of androgenetic alopecia (male pattern hair loss).
So far this is a lot better than my old hand held unit.

it's so great we live at this time for all new technology comes up, I have been using your hair rejuvenation system Igrow and others as BIOTIN, Vitamin B complex, Zinc, horse tail, Rogain for about 6 months. Already, my hair feels thicker and several people have asked me what I was doing differently. In just 3 months the thinning has stopped and my hair quality and texture have improved. What a difference from all the other products I've tried before.

This is a great product! I noticed a difference in about 2 weeks. I see less hair loss and can see new hair growth. It is very easy to use. I would recommend this product to any woman who wants to slow down hair loss and regrow hair in thinning areas. I tried the laser comb and it was just too time consuming and hard to use because of my long hair. This product is easy to use and works!