Large Area Ceramic
CeramiCircuit Infrared Radiant Heaters provide safe, healthy, economical heat without drafts and cold spots.
CeramiCircuit heaters are one of the top choices for people with allergies, asthma, chemical sensitivity or who are concerned with the high costs of heating their homes or offices. Why? Because they are safe, provide healthy heat without fumes or chemicals and because they can cost on average 20-50% less to run than other options.
Safety First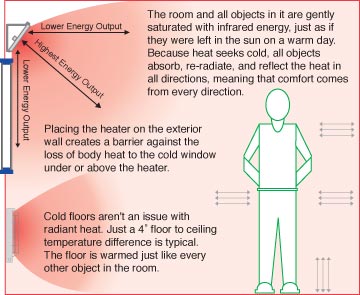 Infrared heat is safe and clean, producing no odors, dust particles, chemicals or fumes. Circulation of pollutants, allergens, dust and other particles is minimized while you receive a high dissipation of healthy heat. You get great, even heat at low operating temperatures from a unit that won't cause fires and is UL listed.
Healthy Heat
CeramiCircuit heaters emit far infrared in the 7-10 micron range. These heaters get high marks from asthma and allergy sufferers and the chemically sensitive. People with arthritis report relief when using these heaters that they don't get from other units. People with extreme sensitivities have chosen the portable stainless steel heaters for decades. "I could not tolerate either quartz rod heaters, sealed oil heaters or the Intertherm heater. I found the ceramic heaters made by your company to be chemically inert, and I use them throughout the winter with no adverse reactions." - NG
Economical Options
More than other heat types, infrared heats people, allowing you to be comfortable at lower thermostat settings. The panels diffuse energy in a 160 degree arc and evenly distribute the heat. Floor level temperatures and ceiling level temperatures are never more than four degrees different. Areas warm up faster without drafts or cold spots.

Radiant heat is so efficient the State of Wisconsin Building Code was changed to allow lower insulation levels in new buildings. All in all, radiant heat can cost 20-50% less than other heating options.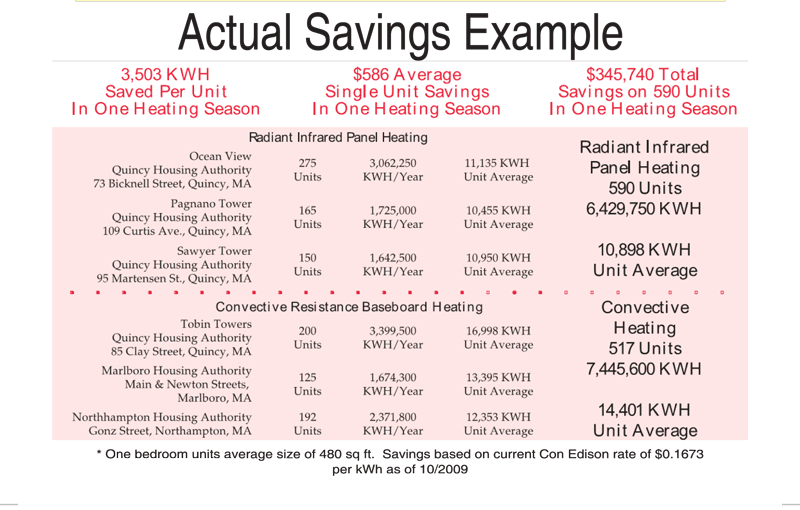 More Environmentally Friendly
Radiant heaters have a low carbon footprint and effective and efficient heat delivery. It is more efficient than convective and forced air heating because you don't lose energy in ducts or because the air is not efficient in heat transfer. The Department of Energy states that 40% or more of heating energy is lost with forced air systems. You don't have that problem with radiant heat, and the lack of forced air is better for people with allergies or sensitivities.

Our radiant heat panels have faster response times than other radiant heaters so you warm up faster, allowing you to set lower temperatures. And there are CeramiCircuit panels that have been in use for over 60 years without maintenance or service, further reducing environmental impacts.

These panels have no emissions and can work with hydroelectric, solar and wind power. So if you want a clean, low impact solution, CeramiCircuit is the way to go.
If you have questions about heating your home, office, school or other building, feel free to call us at 888-742-3404, or email info@promolife.com.