The CeramiCircuit Portable Infrared Heater gives you safe, healthy and economical heat in any room.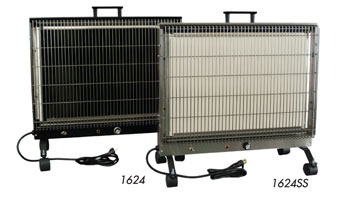 Infrared heat is safe and healthy, and the heat emitted from the CeramiCircuit heater is in the beneficial 7-10 micron range. They are great for people with allergies or chemical sensitivities because they don't circulate allergens, chemicals or odors. Both models are run for two to three days prior to shipping so there is no off-gassing.

These heaters are extremely efficient and economical to use. They distribute heat evenly and can be plugged in to the nearest outlet and used with ease. The portable units allow you to enjoy therapuetic, even heat in any room.
NOTE: The black model is no longer available. Stainless steel only.

Features:
Costs up to 40% less than electric convection, oil or gas heating systems
Unit has on/off setting only. To adjust temperatures a thermostat is required.
Clean, quiet, and odorless
Contains NO plastics
Allergy-free for a healthy lifestyle
Even heat—no waste
No pipes, no ducts, no furnace, no chimney—no maintenance
No elements or coils—no fire hazard
Includes a tip over switch
UNITS ARE MADE TO ORDER - ALLOW UP TO TWO WEEKS BEFORE UNITS ARE SHIPPED
Optional Programmable Outlet Thermostat
You may choose to add on a LuxPro Programmable Outlet Thermostat. This device is ETL approved and allows you to control the heater with adjustable temperature control that is 5/2 programmable (weekdays and weekends can be programmed differently).
Return policy: This is a non-returnable item.
Because these heaters are made to order, it can take two weeks before the unit ships.
Great heater for the chemically sensitive

This is a great heater for the chemically sensitive, and also for others as well. I have tried nearly all types of space heaters on the market, and this is the only one that I have found that does not trigger an allergic reaction for me. (FYI, I purchased the stainless steel version.) It is very quiet, puts out an even and comfortable heat, and won't dry out the air. Much better than forced-air heating.